2017/2018 Crime stats not good - 57 people killed in South Africa everyday!
South Africa's 2017/2018 crime statistics released by Police Minister Bheki Cele on Tuesday to the Portfolio Committee on Police in Parliament painted a bleak picture about crime-fighting, safety and security in the country.
Cele was accompanied by senior South African Police Service (SAPS) management at the release of the 2017/2018 crime stats.
"The crime stats this year are absolutely nothing to write home about. Our emphasis is what is to be done, rather than the crime stats, which doesn't give any joy to talk about," Cele told members of the Portfolio Committee on Police.
"If you can't control murder cases, we are not bringing any joy to the South African people. Looks like 57 are dying a day. It borders close to a war zone. I immediately see SAPS dropped the ball for such figures to happen."
Cele said that says the answer that needs to be given is what should be done.
He said that he has told members of the SAPS management that never again should the crime stats presented on Tuesday be repeated.
"South Africans should not continue to live in fear."
Major General Norman Sekhukhune, Head of Police Crime Research and Statistics then presented the 2017/2018 crime statistics noting that the period is from 1 April 2017 - 31 March 2018.
"In the current financial year, the South African Police Service recorded 2 096 781 counts of serious crimes," he described.
Major General Sekhukhune said that when one looks broadly at contact crimes like murder, sexual offences and attempted murder, this category of crimes has increased from the 2016/2017 crime statistics.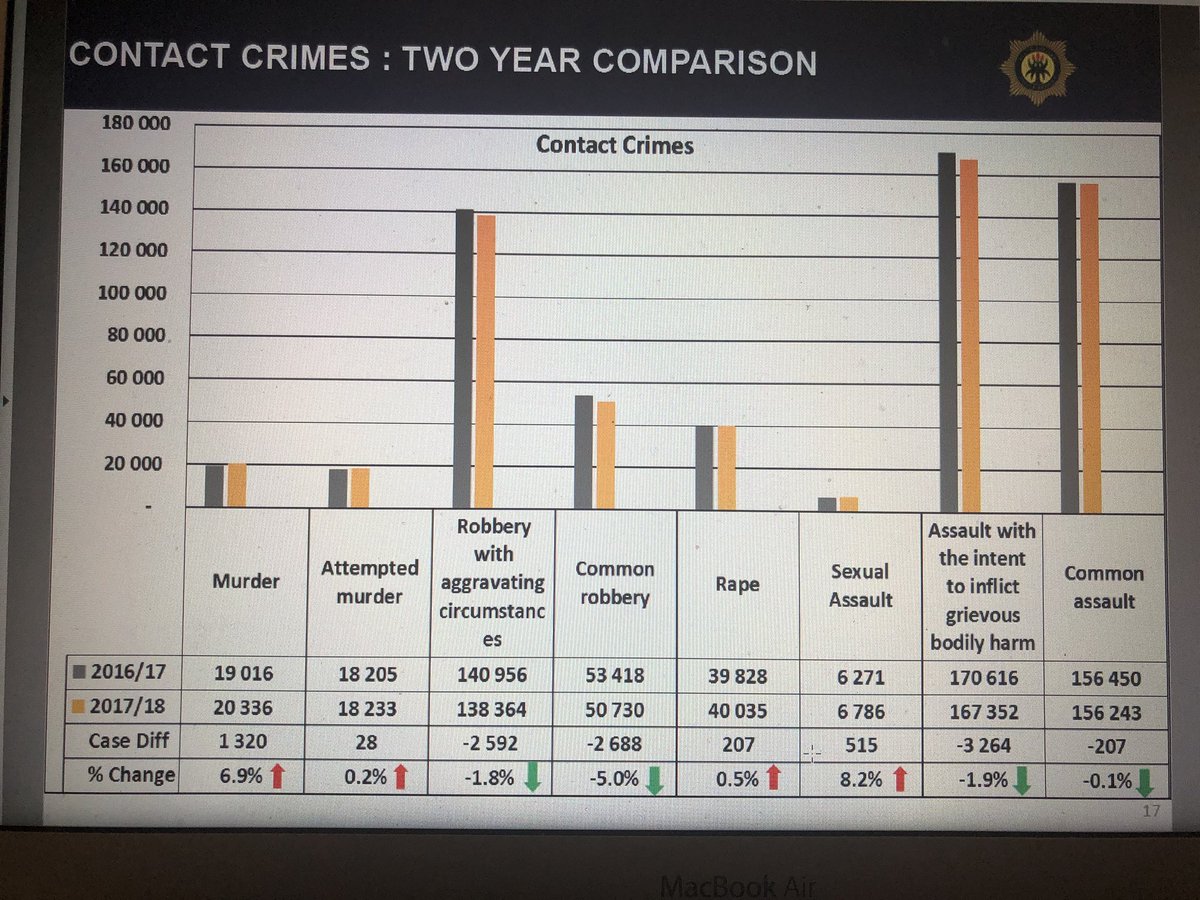 He added that a two-year comparison of contact crimes shows that murder went up by 6.9% - from 19016 in 2016/17 to 20336 in 2017/18. Attempted murder also went up by 0.2% (18233) and rape up by 0.5% (from 39828 to 40035).
Major General Sekhukhune says 28 police officers were killed in the line of duty during the 2017/ 18 financial year, while 57 were killed while off duty.
"Overall, 85 men and women in blue lost their lives and this explains the difficulties of SAPS members," he described.
He added that police killings contribute to murder statistics - the highest number of officials killed at once was in the Ngcobo police station massacre earlier this year.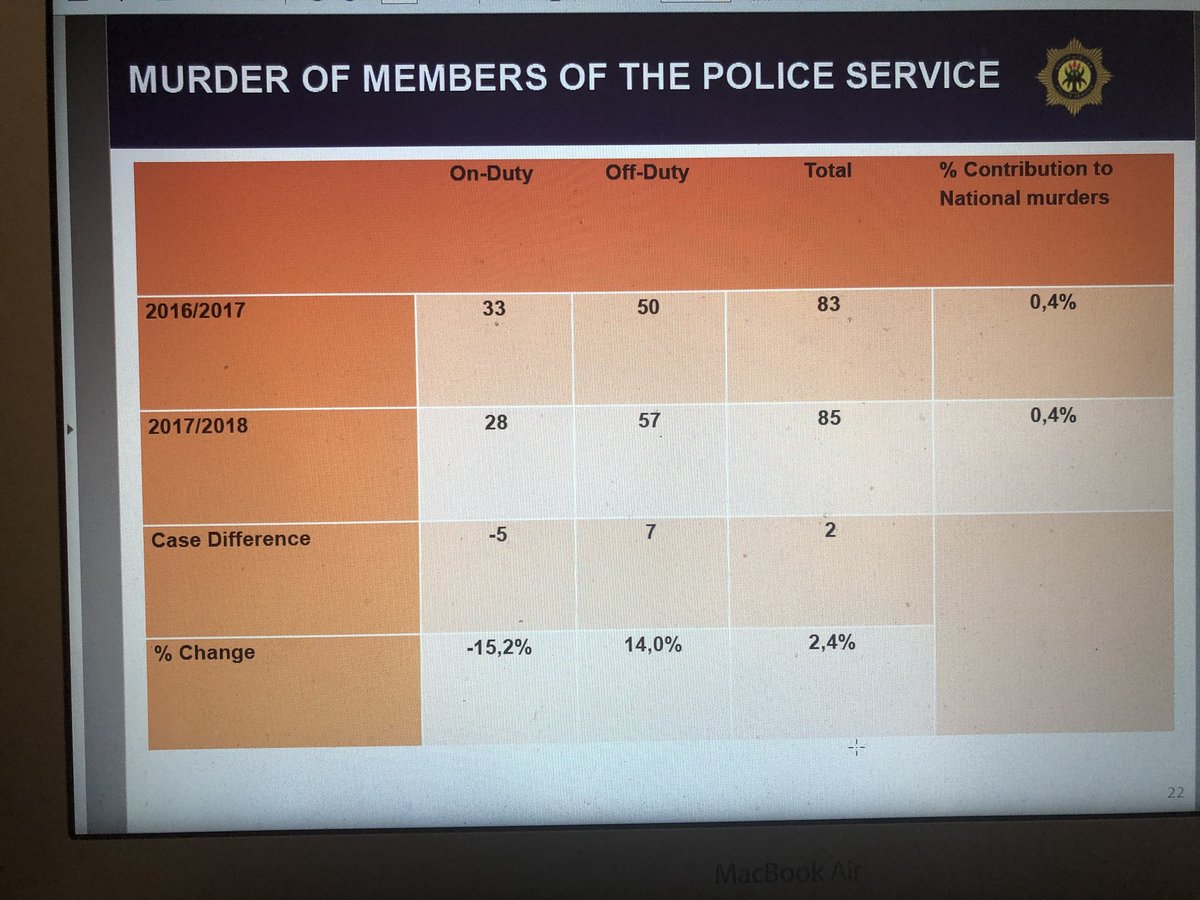 Major General Sekhukhune told Parliament that 294 girls fell victim to murder during the same period, an increase of 10.9%; 691 boys were victims of murder during the 2017/18 financial year (up 20.4% increase).
He says 2 930 women were murdered during the period under review (up 11%).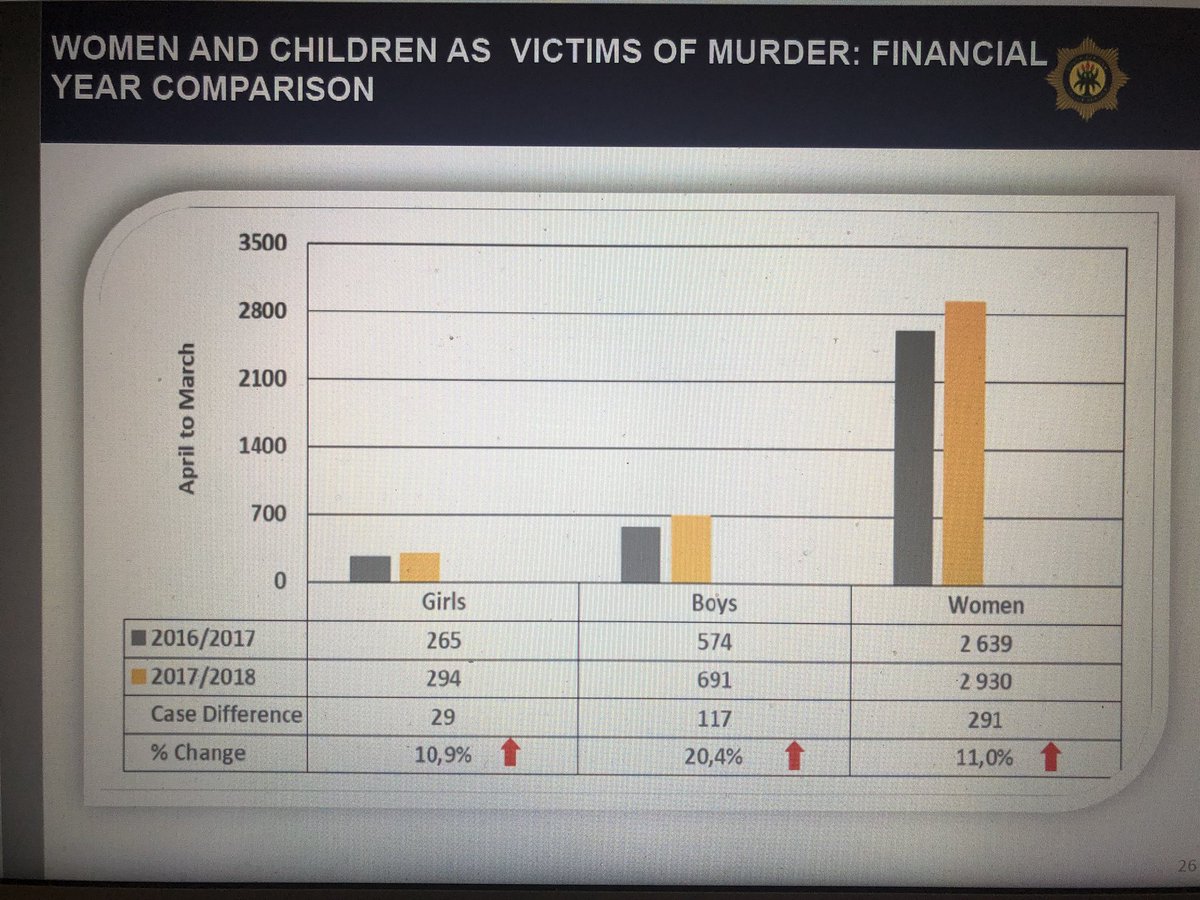 Crimes categorised as farm murders were 62 in total - 12 in Gauteng, nine each in Limpopo and North West, eight each in Mpumalanga and Free State, seven in KwaZulu Natal, three each in Eastern Cape, Northern Cape and Western Cape.
Major General Sekhukhune said that the Western Cape leads other provinces in terms of gang-related murders.
He added that some instances murders are multiple murders, particularly in the Western Cape where gang crimes are high. Sekhukhune said there were 808 gang-related murders in the Western Cape, and 87 in the Eastern Cape recorded in the 2017/2018 year.
Gauteng has the most taxi-related murders and also tops mob justice murders, followed by Western Cape and the KwaZulu Natal. Incidents of mob justice were recorded as 264 in Gauteng, 173 in the Western Cape, 145 in KwaZulu-Natal and 95 in Limpopo.
KwaZulu-Natal also recorded 30 political murders and two were reported in the Western Cape.
According to the crime stats, seven of the top 10 police stations for murder cases are in the Western Cape.
Firearms were used in almost half of all the murders, followed by knives, sharp instruments, other unknown items, stone/brick and hands. One firearm could also be used in more than one incident to commit murder.
Major General Sekhukhune said that cash-in-transit heists have increased in the last three financial years. There was 137 cash-in-transit cases in the 2015/16 period; 152 cases (16/17) and 238 (17/18).
The highest number of cases occurred in the Gauteng (80) and the KwaZulu Natal (30); 9mm pistols were most commonly used weapon and the cash-in-transit heists happened mostly on the road or in a business area - 40 happened in spaza shops and malls last year.
The cash-in-transit heists mostly happened on Mondays and Saturdays, between 8am and noon.
He added that 23 security guards and two bystanders were killed in the 2017/2018 period during these cash-in-transit-heists. In most instances, security guards' weapons were taken from them.
The Committee heard that cash-in-transit heists have been on an upward trend since 2014/15.
Bank robberies and truck hijackings also increased in the past year.
Kidnapping was also a major crime category with common motives being sexual offences. Only 10 kidnappings were recorded as requiring ransom to be paid.
Police say public order incidents have decreased in 2017/18.
Parliament also heard that in 2017/18, majority of serious crimes were reported by community (79.3%) and the remainder was crime detected as a result of police action.
Access the full 2017/2018 Crime stats here.