29 Louterwater residents arrested after two days of violence
The Humansdorp Cluster Commander, Brigadier John Lebok, on Wednesday strongly condemns the violence and lawlessness that some community members in the Louterwater area, Joubertina, reverted to, after the arrest of a suspect linked to a business robbery on Monday.
"It is alleged that two suspects robbed a business in Louterwater at about 14:10 on Monday, and community member apprehended one of the male suspects (25) soon after the incident and handed the suspect over to the police," said police spokesperson, Captain Gerda Swart. 
"Whilst the police members were still busy on the scene, community members outside the business, refused that the suspect must be detained and they wanted the police to hand the suspect over to them the community. 
"Members on the scene tried to contain the situation outside whilst the other police officials took the suspect to the local police station."
Captain Swart said that as soon as the community realized that the suspect had left, they became violent and started stoning police vehicles and members on the scene. 
"One police official was injured during the stone throwing. Community members allegedly overturned three police vehicles in the process and additional manpower from neighbouring stations were deployed to contain the situation," she added. 
"Community members continued with their stone throwing and police retaliated by firing rubber bullets.  Eleven vehicles were damaged during the violent acts.
"Community members closed the R62 with stones and burning tires and Public Order Police were called in to assist with the situation in the area."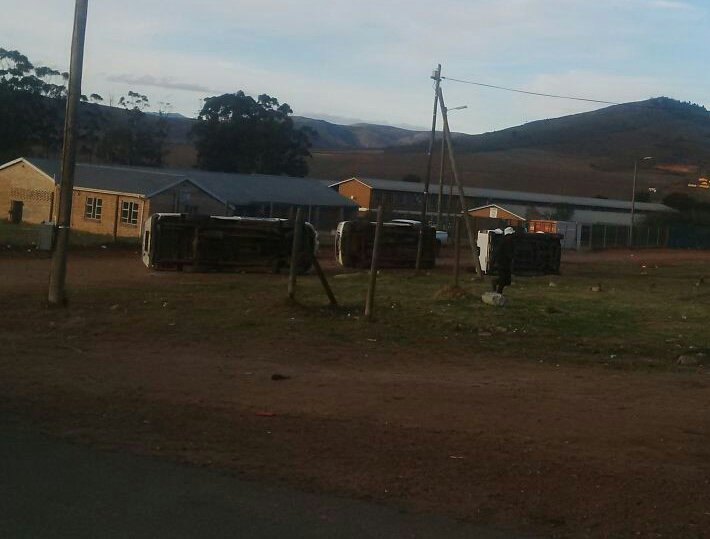 In the end, twelve suspects - 11 males and one female, aged between 20 and 43-years old, were detained on a charge of public violence and are due to appear in the Humansdorp Magistrate's Court on Thursday. 
On Tuesday, community members allegedly returned to the R62 and closed the road again with stones, said Captain Swart. 
"Community members allegedly went to a shop that was on the R62 in Louterwater and looted it.
"Police members acted swiftly and arrested a further ten suspects (ages 18 – 54-years-old) on a second charge of public violence," she said.
"Police members followed up on information about the stolen property taken from the shop and arrested seven more suspects, aged between 17 – 27 years old, on a charge of possession of suspected stolen goods."     
A total of 29 suspects will now appear in the Humansdorp Magistrate's Court ton Thursday on various charges. 
"The South African Police Service calls upon the community to remain calm, not to take law into their own hands and to work with the police to bring calm and order to their area. Police will remain on high alert and additional members were deployed to restore and maintain order.  Police investigations are continuing," said Captain Swart.