Anti-rape protesters disrupt Rhodes gender violence discussion
There were chaotic scenes at the first gender-based violence dialogue, which is being hosted by Rhodes University, the Department of Higher Education and Training and the Higher Education and Training HIV/Aids programme (HEAIDS), at the university's Barratt Lecture Theatre on Monday in the wake of the #RhodesReferenceList protests in April.
The event organisers struggled to control mostly female student protesters - some of them with their tops off, who suddenly rose up in the crowd with placards, sang and engaged in a shouting battle with the pannelists, who included Rhodes University Vice-Chancellor, Dr Sizwe Mabizela, and Deputy Minister for Higher Education and Training, the Honourable, Mduduzi Manana.
The angry female students claim that there is far better treatment for alleged rapists than support for their victims at the institution. They claimed that Dr Mabizela had not listened to their plight for a safer campus and for action against alleged perpetrators.
Several female protesters had to be removed from the auditorium forcing the dialogue to end before it even started.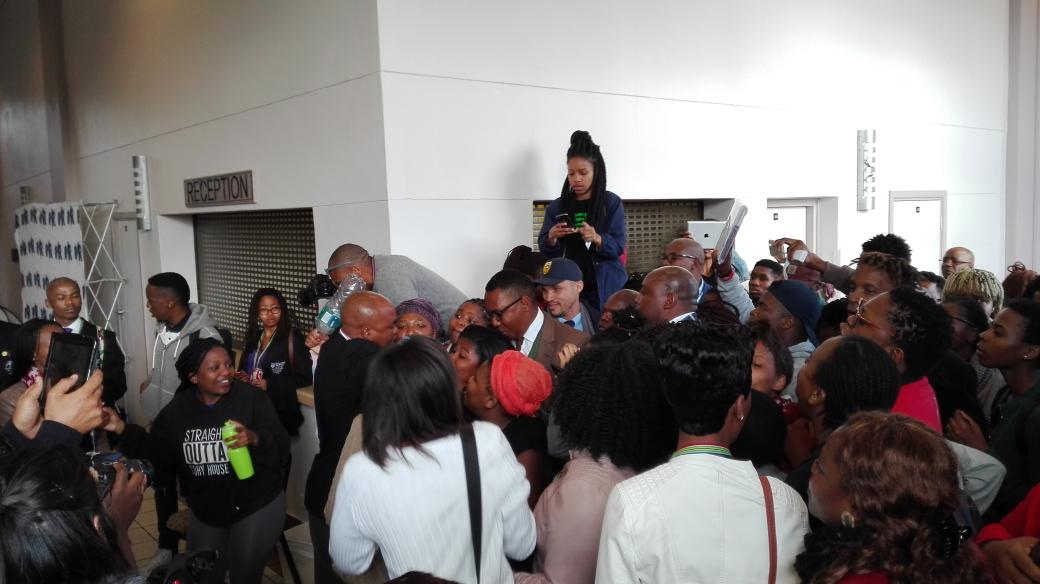 Several protests, often violent, broke out at the institution after the so-called #RhodesReferenceList of alleged sexual offenders at the institution emerged sparking conversations and further protests around universities countrywide about sexual violence on campuses.
Female university students voiced their anger that there was not enough effort being done to protect them from sexual assault on campuses - with alleged perpetrators often walking scott-free.
Rhodes University, the DHE and HEAIDS planned the Inaugural National Dialogue on Gender Based Violence to address these concerns. 
It is the Department of Higher Education and Training that called on HEAIDS, together with the various higher education institutions, to develop and implement a comprehensive response to the issue of gender-based violence through inclusive dialogue, with the event taking place at Rhodes University being the first of its kind held at a national level.
"Rhodes welcomes the intervention of the Department of Higher Education as this will not only open conversations on gender based violence on our campuses but will also add onto the various initiatives that higher education institutions have in place to raise awareness around gender based violence and rape. We hope that this dialogue will assist our institutions to continually to re-examine where we might add and or improve our current initiatives, processes and procedures," said Dr Mabizela, ahead of the discussion.
"There are at least three critical dimensions that need our focused attention and concerted efforts – first, we must raise awareness on issues of gender-based violence and rape; second, we must provide safe, secure, supportive and empathetic support for our staff and students who may fall victim to gender based violence and rape.
"Lastly, we must ensure that the perpetrators of such violence are prosecuted to the full extent of the law and removed from our society for a long time. We should never rest until gender based violence and rape have been eradicated from our society, in general and from our campuses in particular."