DA's 2015 Federal Congress kicks off in Port Elizabeth (see full programme)
The Democratic Alliance's (DA) much anticipated 2015 Federal Congress, which is being held in the Nelson Mandela Bay Metro for the next two days, has begun at the Boardwalk International Convention Centre, in Port Elizabeth.
Among other things, the congress will decide on Sunday the party's next leader after Helen Zille steps down
The Congress is being held under the theme "building one nation with one future underpinned by Freedom, Fairness and Opportunity for all", according to the party.
Still, all eyes will be on the leadership race between the DA's Parliamentary leader, Mmusi Maimane, and Federal Chairperson, Wilmot James. In 2007, the Congress overwhelmingly elected Zille after Tony Leon stepped down.
Meanwhile, the party won a court ruling forcing the SABC to broadcast live the 2015 Federal Congress on national TV - SABC 2, after the public broadcaster had tried to pull out of the deal at the last minute yesterday.
Holding the Congress in the Nelson Mandela Bay seems not purely by chance as the DA has not hidden its intention to wrestle the municipality from the African National Congress (ANC) in next year's Local Government Elections.
The DA's Andrew Whitfield tweeted that the congress this weekend will "show this Metro and the country that we are ready" to govern.
See the full programme below.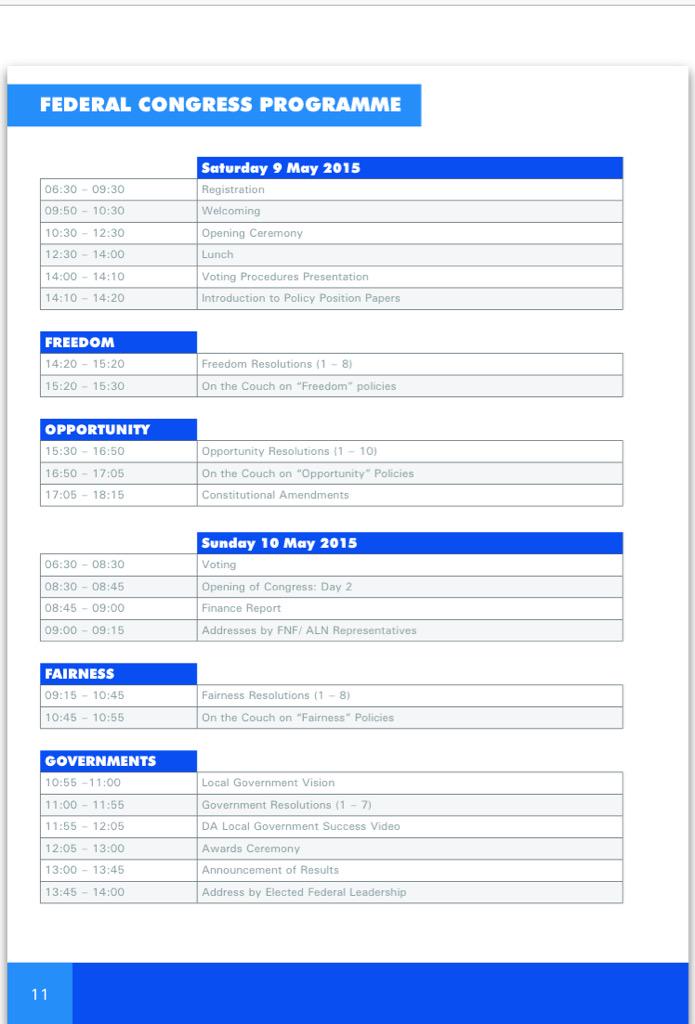 Related: STAGE IS SET FOR DEMOCRATIC ALLIANCE'S BIG WEEKEND IN NELSON MANDELA BAY