Exclusive: AfriForum PE's Gerber explains why he brought noose to Jayde Panayiotou hearing
Amid the frenzy at the court appearance of the second suspect arrested in connection with the murder of Port Elizabeth teacher, Jayde Panayiotou, now identified as her husband, Christopher, there was a lone protester whose brief appearance in the courtroom perhaps captured the sentiments of some people, who have been following the case intently.
AfriForum Port Elizabeth Vice Chairperson, Kobus Gerber, who is also the chairperson of the Nelson Mandela Bay Ratepayers Association (NMBRA), turned heads when he entered the packed courtroom at the Port Elizabeth Magistrates' Court with a good-sized mock noose in one hand and a sign that read; "Mr Zuma We Have Had Enough".
He did not stay long, however, as he was asked to leave the courtroom.
RNews finally, managed to get hold of him to hear why he did what he did.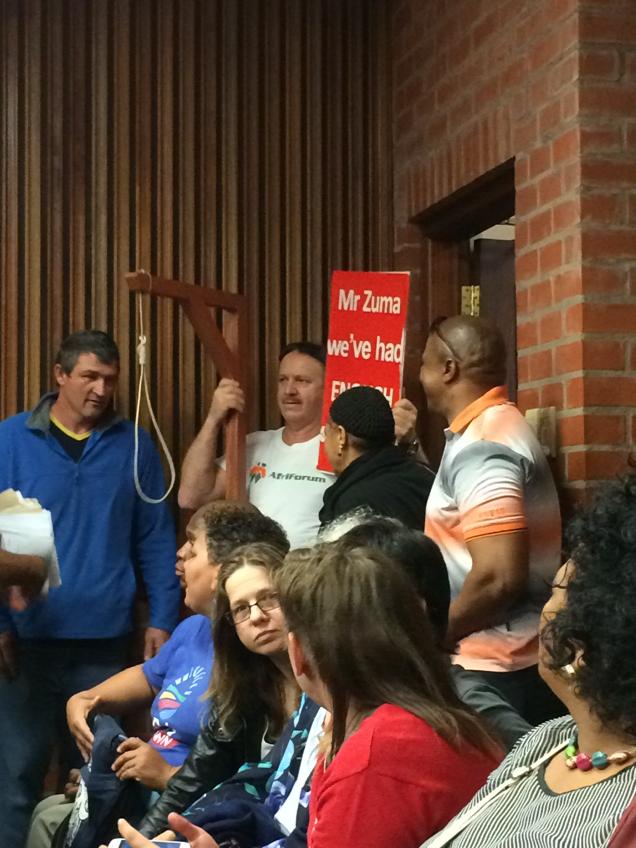 "Firstly, I have had enough of the daily unnecessary murders of innocent people country wide, secondly the fact that daily about 43 people get murdered meaning that about 1 290 monthly and 15 480 annually," Gerber said, explaining his actions.
"I don't know if any other disease claims that much lives annually. I had to make a statement that 'WE HAVE HAD ENOUGH OF CRIME' in our city and country."
He said, while he did not intend it, his actions attracted attention and he received calls from international media the very same day.
Gerber said he hoped people got the message that it was time the law gets tough on criminals – not just astonishment at his actions.
"The people of the Nelson Mandela Bay Municipality and the rest of the country have shown the utter most frustration with crime over the last few weeks - and after a known soccer player was robbed; a local farmer and Jayde murdered in one week, among other crimes, what does the justice system do?
"They give them bail and the very next day, they continue with their criminal activities knowing that if they get caught that they can rely on our pathetic justice system to put them back on street again. My message is clear, 'no bail for any killers, rapists, hijackers, armed robbers and for any drug related crimes'," Gerber said.
"Criminals should not get bail - if they remain in custody, it will put the brakes on crime!"
RNews asked him if he felt the death penalty should be reinstated as indicated by the mock noose he carried into the courtroom.
"Yes, but also know that it won't happen overnight and we will have to fight hard to get the death penalty reinstated," he said.
"That's why for now we will settle for 'NO BAIL' to criminals committing any serious crimes."
Gerber also called for a change in the way the justice system rehabilitated offenders.
"After convicting anyone who committed a serious crime, they must get hard labour and not sit in a cell and control their gang from inside the jail. The Correctional Services Department should invest in changing jails into farms and factories so that the criminals can become productive - paying their way through life and not let the taxpayers of this country, who already suffered under the crimes committed, suffer again paying for criminals in prison."  
While the death penalty would not necessarily address crime, Gerber said it would be a great deterrent.
"You will always have murder and rape cases but if criminals know that they will get the death penalty or be removed from the community and made work to pay for their own way while in prison - especially if they face hard labour, we will see crime stats go down. 'HARD LABOUR' not having a picnic in jail," he said.
He said AfriForum PE and the NMBRA shared his views on crime, hard labour in prison and the death penalty.
"And AfriForum have started with training programs for people who want to get involved or want to start neighbourhood watch groups. We are also encouraging people to join AfriForum and unite against crime. We can only do this if everybody is united - and before crime effects your life."
At the end of April, Gerber launched an online petition called NO BAIL FOR ANY KILLERS, RAPISTS, HIJACKERS, ARMED ROBBERS AND FOR ANY DRUG RELATED CRIMES. It has been signed by over 285 people to date.
"That was just a test run for a big campaign that we are kicking off soon and we will market it country wide.
"We at least know now that her [Jayde] death made people to sit up and realise that she could have been anyone's sister, daughter or mother and that made people getting involved like never before."
RELATED STORIES
Read more: JAYDE PANAYIOTOU MURDER CASE: SIYOLI REMANDED TO 19 JUNE - EMERGED WAS BOUNCER AT CHRISTOPHER'S BAR
Follow the whole case here: JAYDE PANAYIOTOU MURDER CASE: THE DEVELOPMENTS SO FAR