Finally, your chance to DO SOMETHING about rhino poaching!
When it comes to crises affecting our communities, there are two kinds of people; those who try to wish them away and those that actually stand up and do something. You have read the headlines about how our rhinos are slipping towards extinction with each passing day; this October, you have a chance to ACT and support the men and women, who are working tirelessly to ensure your grandchildren will be able to see live rhinos.
On 29 October, there will be a black-tie dinner and auction at The Boardwalk/Sun International - Port Elizabeth, where the organisers are promising guests an entertaining evening.
This event will not only serve as the official launch of Wayne Bolton's 6 000km Cycling Expedition across South Africa, proceeds from the evening will go towards supporting two deserving beneficiaries: the rangers from SANParks and volunteers at Care for Wild Africa – an amazing rhino orphanage.
Bolton, who is a local businessman, will be cycling by mountain bike to all of our 19 South African National Parks over 80 days - starting at Kruger National Park, from 28 November 2015, and ending his journey at the Addo Elephant National Park on 13 February 2016.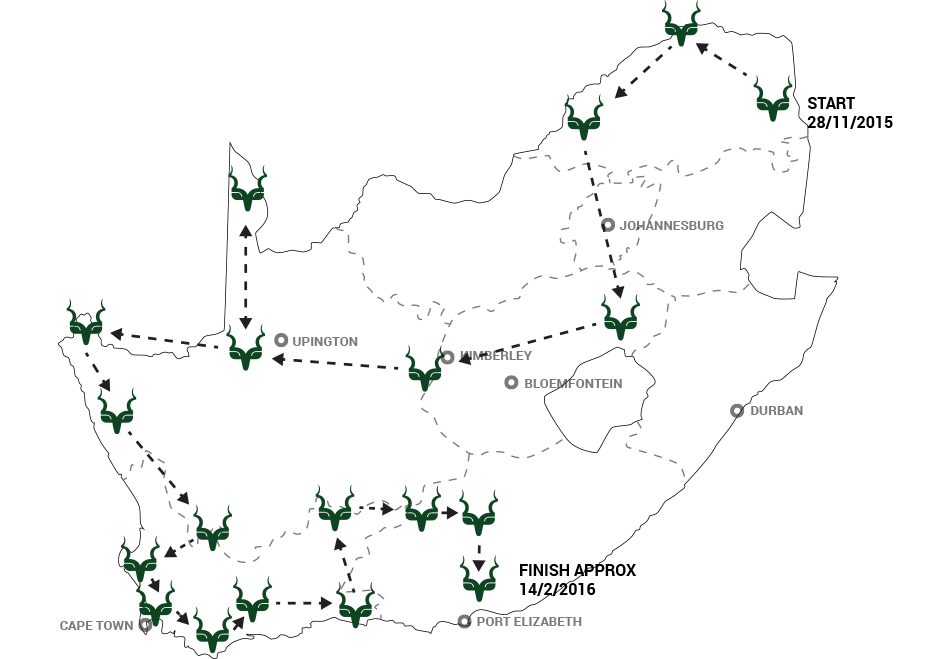 According to him, the SANParks rangers, who work on the frontlines against rhino poachers, need our support for them to effectively carry out their anti-poaching operations.
"Through this fundraising dinner, we are hoping to raise enough money to able to buy these amazing men and women, who work in the various parks - risking their lives daily to protect our wildlife, items like tents and other supplies that they need to effectively conduct their counter-poaching activities," he described. 
"Care for Wild Africa is a rhino orphanage that is doing amazing work in rehabilitating rhino calves that are brought to them when the mothers are killed by poachers. They are currently looking after about 25 calves, which would have been traumatised during poaching incidents."
He said the orphanage needs enough financial support to meet its monthly bill of food and medicines.
Black-tie dinner and auction
According to Bolton's wife, Nikki, they are planning an evening of great entertainment in support of this good cause.
"It is going to be an elegant 5-Star evening at The Boardwalk Sun, who have sponsored the event, and you can expect to be entertained and inspired by our renowned motivational speakers, during the auction and there are also amazing family weekend getaways to be won from our sponsors," she said.
Guest speakers on the evening include;
Braam Malherbe – the acclaimed extreme adventurer, motivational speaker, conservationist, TV presenter,  philanthropist, youth developer, responsible for the DOT Campaign – Do One Thing, and all-round good guy;
Vasti Geldenhuys – another acclaimed adventurer, who kayaked from South Africa to the US with her boyfriend, Riaan Manser; and
Ashley Dowds (Host / MC) - South African actor, television presenter and best known as a continuity presenter for SABC3, and for co-presenting the reality travel show, Going Nowhere Slowly.
Claire Venn, a Port Elizabeth-born musician, who is fast making a name for herself, will also be there to get you grooving.
Two of Port Elizabeth's most sought-after auctioneers, Catherine Elliot and Jacqui Williams, fondly called the 2 Sisters Auctioneers, will entertain with a short auction.
"It is going to be a night to remember for everyone," said Nikki.
"That is why we are also encouraging companies to come and join us as their year-end function. A year-end function that will benefit a worthy cause."
She said that the tickets are going for ONLY R500 per person or R5 000 per table of 10 (Cash bar).
Some of the top organisations and companies in the Bay have already signed up for the event. Here is your chance to mingle with some of their senior executives and ensure you are there with the best.
Event details
Date:           29 October 2015 / Thursday
Time:          18h30 for 19h00 sharp
Venue:        The Boardwalk - Sun International - Port Elizabeth
Dress:         Formal Black Tie
Cost:           R500 per person or R5 000 per table of 10 (Cash bar)
Proceeds:   The proceeds will go to our two worthy beneficiaries
 
To make your booking or for more information, please clickHERE now.
LIKE the One Land Love It Expedition on Facebook HERE.
Follow on Twitter HERE.
Follow on Instagram HERE.
Main image: Wayne Bolton with rangers John Solly, Vuyisumsi and Bullet.