Gvt doing everything possible to return Metro to its former glory: Zuma
Speaking during the launch of the War on Leaks programme at Dan Qeqe Stadium, in Zwide, Port Elizabeth, President Jacob Zuma, said that the Nelson Mandela Bay region was in an important period of revitalization in terms of service delivery and in rooting out corruption.
"You have gone through a long period of difficulties here in this city," Zuma said.
"As part of measures to improve service delivery in Nelson Mandela Metro Municipality, national government, through the Minister of Cooperative Governance and Traditional Affairs, has presented a support package to Council and this has been formally adopted."
The President said that a technical support committee has been established to coordinate activities of various departments, and the committee has established five work streams which align its work around the pillars of the Back to Basics programme.
"The Back to Basics programme was launched in September last year, to rebuild local government. Its pillars include Putting People First, Good Governance, Infrastructure and services, Financial Management and Institutional Development.
"There has been notable progress achieved by various work streams established to improve the provision of services in Nelson Mandela Bay Metro Municipality."
He said that there has been an improvement in the responsiveness of the municipality to complaints, through the work of the municipality's Rapid Response Task Team.
"I have been informed that a range of initiatives are also under way to improve infrastructure and service delivery. For example, additional subsidies have been obtained from the provincial government to assist the municipality to maintain the major roads in the town." 
President Zuma added that the Housing Development Agency under the Department of Human Settlements is assisting the municipality to expedite housing projects.
"National Treasury's City Support Programme (CSP) is also assisting the municipality to put in place a more efficient and effective procurement system for housing projects. The Department of Water and Sanitation has committed funding for the construction of the Nooitgedacht Water Scheme to increase water supply in the municipality. Construction has commenced and is scheduled for completion in February 2017," he announced.
On governance and corruption
"Various measures are being implemented in order to improve governance in the Nelson Mandela Metro Municipality. These include a review of all outstanding legal and audit issues to ensure that they are dealt with appropriately," Zuma said.
"Investigations are being undertaken into allegations of fraud, corruption and misconduct, including a forensic investigation. This will also include ensuring that cases of fraud, corruption and misconduct are appropriately dealt with - this may include forensic investigations, disciplinary action and prosecutions.
"I want to assure you that government will do everything possible to ensure that this city is revitalised and returns to its former glory.
"We have begun the story with the revitalisation of local government which is taking place. We have full confidence in Mayor Jordaan and are convinced that he will make a difference in turning Nelson Mandela Bay around, working with all of you as the community."
The War on Leaks programme launch was also attended by Minister of Water and Sanitation, Nomvula Mokonyane; her Deputy, Pamela Tshwete; Eastern Cape Premier, Phumulo Masualle; Nelson Mandela Bay Mayor, Danny Jordaan, as well as other government officials and local councillors.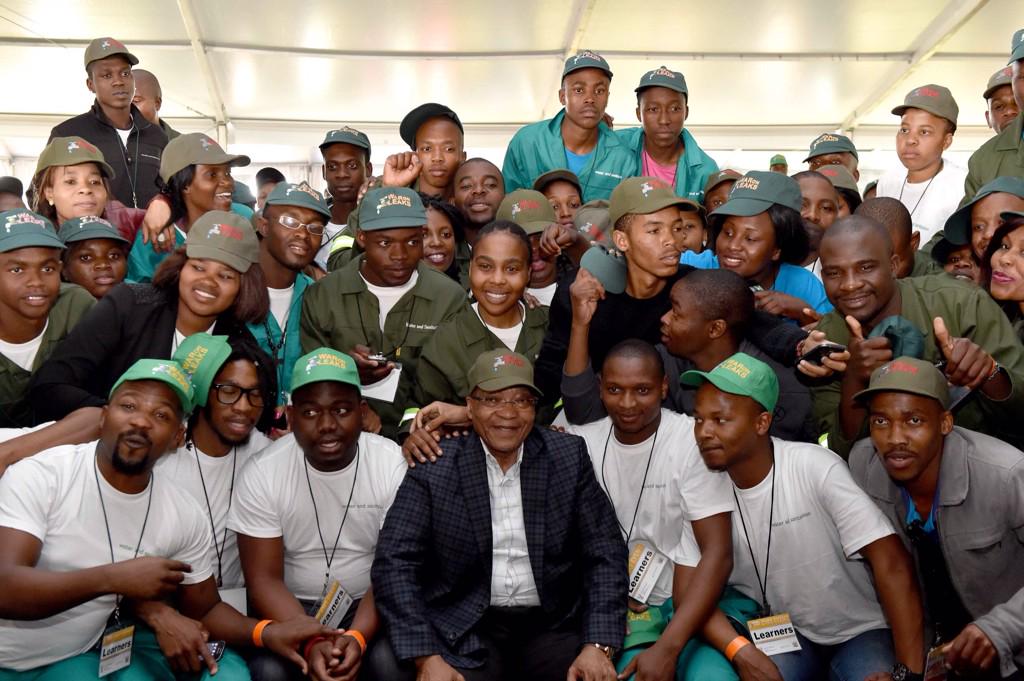 The War on leaks programme is designed to recruit and train 15 000 young people to curb water losses.
Images: ANC info feed via Twitter.