Heavy rain, gale-force winds and high seas expected this weekend
LATEST UPDATE FROM WEATHER OFFICE: "A fast moving cold front will pass over the area overnight tonight, bring with it some cooler weather, light rains showers and gale force winds. The system will be short lived, and clearance is expected from later tomorrow. Due to the gale force winds, spring high tide and high seas a storm surge is expected, so people using the beaches for whatever purposes must take extra care."
The South African Weather Service is expecting a well-developed cold front to pass over the country over the weekend.
"This will result in hazardous weather along the coastal areas from Table Bay to Port Alfred, especially for the marine fraternity, including subsistence fishers. Weather phenomena such as gale force winds, high seas and possible storm surges or destructive coastal waves could result in damage to boats and/or infrastructure at sea and along the coast," says Hannelee Doubell, Manager: External Communications at the South African Weather Service.
"A rapidly deepening low pressure system associated with a cold front will pass through the Western and Eastern Cape from Friday the 22nd through until Saturday 23rd April 2016."
She said that a strong to gale force north-westerly to westerly winds, high seas and the progression of the cold front combined with the rapidly intensifying low pressure system and spring tides, may result in storm surges or destructive coastal waves along the Cape South and South East coast from Table Bay on Friday afternoon spreading along the South and South East coast reaching Port Alfred by Saturday evening.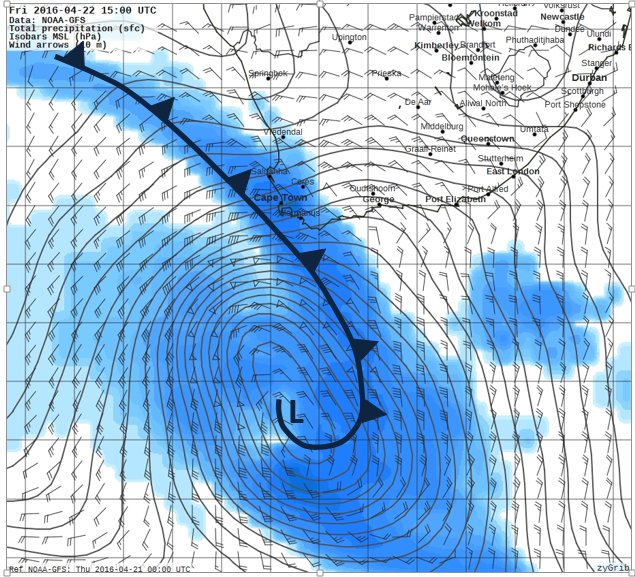 Figure 1: Well developed cold front approaching South Africa
WARNINGS
1. Heavy rain is expected in places over the mountainous areas of the Cape Metropole, Overberg District, Cape Winelands and southern parts of West Coast District from tomorrow (Friday) moderating overnight.
2. High seas reaching 9 m off shore with 4.5 to 5m inshore swell will spread along the coast from Friday through until Saturday night, moderating from the west as the system moves eastwards.
3. Strong to gale force north westerly windsare also expected to commence Friday afternoon over the Western Cape, spreading eastwards and becoming westerly,reaching the Port Elizabeth area by Saturday morning.
4. Storm surges and or destructive coastal waves are anticipated to occur as a result of the combination of events which will be most intense during the period around the spring high tides as indicated below
| | | | |
| --- | --- | --- | --- |
| Town | Friday 22/04/2016 | Saturday 23/04/2016 | Sunday 24/04/2016 |
| Cape Town | 15h42 | 03h47 |   |
| Hermanus | 15h40 | 03h45 and 16h09 |   |
| Mossel Bay |   | 04h09 and 16h33 |   |
| Knysna |   | 04h32 and 16h53 |   |
| Port Elizabeth |   | 16h31 | 04h37 |
| Port Alfred |   |   | 04h44 |
Advice
Small fishers and anglers are advised to seek shelter before the onset of the anticipated weather.
Watch all docked ships for extended movement caused by resonance within ports and harbours.
Be aware of broadside winds impacting on loading and tethering of ships.
All small vessel bow and stern lines should be loosened to allow for abnormal tidal variations.
Coastal dwellers are advised of possible abnormally high waves, which may result in beach degradation or destruction of minor infrastructure.
The South African Weather Service will continue monitoring the models forecasts and data and may change or adapt this alert accordingly.