LIVE BLOG: 2019 Elections - South Africans voting in 2019 General Elections
South Africans voting in the 2019 General Elections tipped to be won by ANC
South Africa on Wednesday, 8 May, is at the polls -  voting in the country's sixth national general elections since the end of apartheid in 1994.
Voters are choosing the next President, Members of Parliament (also called the National Assembly) as well as members of the various Provincial Legislatures.
A record number - 48 political parties, met the legal requirements to contest the 2019 National and Provincial elections.
South Africa's national and provincial elections take place every five years.
Observers see the May 8 general election as an assessment on the performance of the ruling African National Congress (ANC), which has run the country over the past 25 years.
The once esteemed liberation movement has lately been mired in several high-profile corruption scandals involving some of its top leadership. It has also been blamed by opposition parties for the weak economy – which has somewhat recovered after current President, Cyril Ramaphosa, replaced Jacob Zuma.
Still, allegations of corruption did not end with the Zuma-Gupta relationship as Ramaphosa, his son and those around him in the ANC allegedly benefited from the now-infamous Bosasa.
However, the question remains - could there be an alternative in the country's opposition parties, which also face their own challenges and allegations. Failed opposition coalitions against the ANC have also shown how opposition parties cannot resolve their differences - which, as an example, saw the ANC bouncing back in Nelson Mandela Bay, even after it was narrowly defeated by the DA in the 2016 Local Government Elections.
2019 elections predictions
Support for the ANC dwindled starting with the 2004 election and reaching its lowest point during the Jacob Zuma presidency, however opinion polls see the ANC bouncing back and winning around 60% of the vote owing to the so-called 'Ramaphosa effect', which is believed to be drawing voters back to the party aided by a fragmanted opposition.
 Not sure were to find your voting station and what times they will close? Read our quick guide to the 2019 Elections HERE.
Elections 2019 live blog
14:30 -A voting tent fell in Soweto-on-Sea in Port Elizabeth due to heavy winds. Residents were moved to a nearby church structure so that they can continue with the vote.
---
12:22 -President Cyril Ramaphosa cast his vote at Hitekani Primary School in Chiawelo, Soweto. Opinion polls have tipped him to retain the Presidency with the ANC winning around 60% of the vote.
I arrived at Hitekani Primary School in Chiawelo with my wife Tshepo, where we casted our votes. #Elections2019 take place during Africa month and liberation movements from across the continent are here to wish us well - SWAPO, BDP, FRELIMO, MPLA, ABC, BNP & ZANU PF #VoteANC pic.twitter.com/iRfMsl5EH6

— Cyril Ramaphosa ???????? (@CyrilRamaphosa) May 8, 2019
---
12:00 -A few moments ago, the leader of the Economic Freedom Fighters (EFF), Julius Malema, cast his vote in Seshego, Polokwane. There is no doubt about who he voted to be President - the EFF are the third biggest party.
[MUST WATCH]: CIC @Julius_S_Malema addressing members of the media after casting his vote in Seshego.

He says after the voting stations close later today, we will wait to hear what South African people want.#IVotedEFF #IAmVotingEFF #VoteEFF #OurLandAndJobsNow #EFFFinalPush pic.twitter.com/BXy9t8xYTh

— Economic Freedom Fighters (@EFFSouthAfrica) May 8, 2019
11:16 -Generally no major issues reported at voting stations across the Eastern Cape so far. Thousands braved the cold weather, arrived early in the morning, patiently waited in lines, went in and cast their votes. Many more are still to vote, hoping there were will be shorter queues in the afternoon.
---
10:40 -Huge media presence at Chiawelo voting station in Soweto, Johannesburg, where President Cyril Ramaphosa is expected to cast his vote. Among those waiting for him is the mother and family of kidnapped journalist Shiraaz Mohamed, who are appealing to government to help in the release of Mohamed. Mohamed was kidnapped in Syria in 2017 and his captors are demanding a R1.5 million ransom.
---
09:49 -Outgoing Eastern Cape Premier, Phumulo Masualle, joined the queue and voted earlier on at Beaconhurst, in Beacon Bay, East London.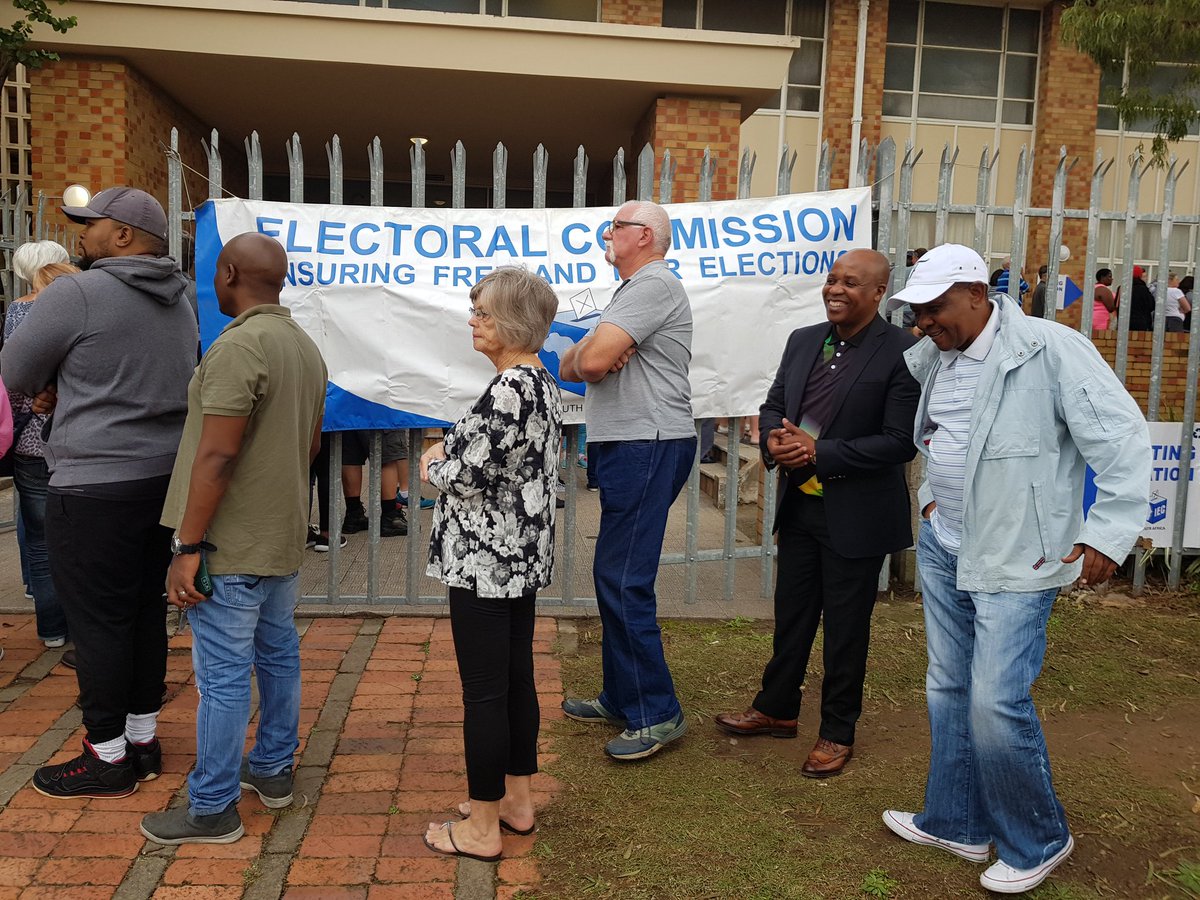 ---
09:25 -Democratic Alliance (DA) leader, who is the party's candidate for President, Mmusi Maimane, cast his vote in Soweto, Johannesburg, earlier on.
"I feel honoured to vote in Soweto, where a large part of our struggle for freedom was forged & where so many of our past leaders hail from.

I am extremely proud to say that, through my vote, I played my part in bringing change to SA & Gauteng!" - @MmusiMaimane #KhulaDA pic.twitter.com/JjZndH0wF1

— Democratic Alliance (@Our_DA) May 8, 2019
---
09:19 -Democratic Alliance (DA) Eastern Cape leader and its candidate for Eastern Cape Premier, Nqaba Bhanga, cast his vote at Buffalo Flats Primary School in East London.
The DA's Eastern Cape Premier Candidate @nbhanga casts his vote.

The Eastern Cape is a province with so much potential. What it needs now is an honest and capable government. #VoteDA today. #KhulaDA! pic.twitter.com/Y5TkJ9fz1k

— Democratic Alliance (@Our_DA) May 8, 2019
---
09:15 -OR Tambo District Municipality Executive Mayor Cde Nomakhosazana Meth cast her vote earlier on.
WHY I VOTE ANC SUBMISSION
ANC PEC member & O R Tambo District Municipality Executive Mayor Cde Nomakhosazana Meth casted her vote in the early hours of today. Amandla Leadership. #VoteANC@MbalulaFikile @LulamaNgcuka @omabuyane @MliboQ @BabaloM_16 @Luntu_Sokutu
@BapsMhlaba pic.twitter.com/Yks1ba0Ap2

— ANC Eastern Cape (@ANCECape) May 8, 2019
---
09:09 - Long queues of eager voters at the Port Elizabeth Riding Club in Lorraine, Port Elizabeth. Some voters have been waiting for their chance to vote for over an hour and 30 minutes so far.
---
09:00 - Former Eastern Cape MEC and Deputy Speaker of the Eastern Cape Provincial Legislature, Mlibo Qoboshiyane, cast his vote in Mthatha.
WHY I VOTE ANC SUBMISSION
ANC member Cde Mlibo Qoboshiyane famously known as Mntungwa casted his vote at Mthatha city hall, OR Tambo Region in the crack of dawn. Victory is certain.#VoteANC @MbalulaFikile @LulamaNgcuka @omabuyane @MliboQ @Luntu_Sokutu @BapsMhlaba pic.twitter.com/lIe6K3GYW6

— ANC Eastern Cape (@ANCECape) May 8, 2019
---
08:45 - Search engine, Google, on Wednesday put a global perspective on the 2019 National and Provincial Elections with a Google Doodle. Read more HERE
---
08:30 - Some scenes from voting in Bluewater Bay, Port Elizabeth.
---
08:23 - Voting at Elukholweni school in Lovemore Park, Port Elizabeth, reportedly "quick and easy. No queue. Mood festive."
---
08:00 - With Eastern Cape having the highest number of special votes applications, the provincial government, through the Provincial Joint Operational and Intelligence Structure (ProvJOINTS) has commended the multi-disciplinary teams that worked tirelessly to ensure that stability prevailed across the Province.  Read more HERE 
---
07:44 - Zip machine at Greenwood school reportedly broken. Voting process being done manually.
---
07:30 - Early bird voters already done.
---
07:26 - Ballot paper arrives at Greenwood school. 
---
07:15 - Voters lined at Buffelsfontein Old Age Home in Charlo, Port Elizabeth.
---
07:07 - Almost no queue at Greenwood school in Park Drive, Port Elizabeth. Maybe 80 or so people had turned up to vote at time of reporting. Apparently, the voting station still waiting for baallot paper.
---
06:35 - Queues at voting station by Impact Church in Glenroy, Port Elizabeth, split up. A to L in one queue  and M to Z in another line.  Meant to make voting must faster.
---
06:30 - There were already long queues reported at various voting stations around the Nelson Mandela Bay as voters braved the cold weather to make their mark in the 2019 Elections.
Follow more RNEWS articles, subscribe to our YouTube channel and for breaking news LIKE us on Facebook. For news on the Western Cape click here.
For great savings on life's little pleasures visit Bargain Buys!  Know somebody who is getting married, Wedding and Function can assist.  Have kids, then you need to visit Kids Connection. Enjoy food and travel, then visit Home Food and Travel.