Rain, wind and snow predicted for Eastern and Southern Cape
According to a prediction by the SA Weather Service, the Eastern and Southern Cape can expect rain from Friday as a cold front moves up from Cape Town.
"A cold front is expected to make landfall in the Western Cape on 12 July 2018 associated with a steep upper air trough. Rain and showers of 5-10mm expected with up to 15-25mm in the western mountainous regions," the weather office Tweeted.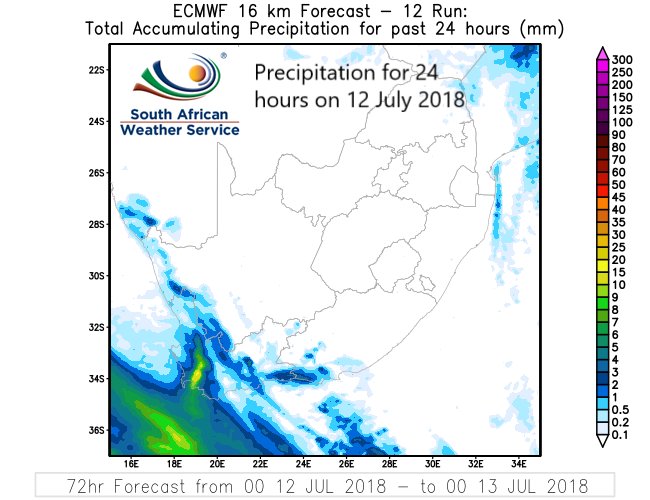 It added: "Cold front and steep upper air system expected to move over interior from the 13th of July 2018. Good rainfall amounts possible on 13 July 2018 as a cold front and upper air system moves through. 10-20mm widely expected with 20-30mm in the central and eastern parts. Snow likely on mountains especially the north-eastern high ground with very cold temps."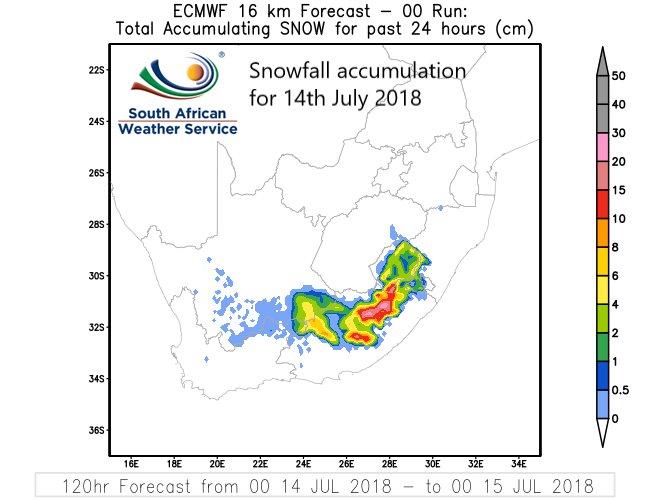 The weather office further advised western Free State and North West  residents and extreme Eastern parts of the Northen Cape to expect cold, windy and wet conditions expected from late Friday with thundershowers and possible small hail.
"Small stock farmers (Angora goats and sheered sheep) and pet owners please make necessary precautions and think of the homeless," it Tweeted.
On Thursday, the South African Weather Service updated their Severe Weather Alerts for the Western Cape to the following:
| | | | |
| --- | --- | --- | --- |
| Hazard | Alert Level | Valid From (SAST) | Valid To (SAST) |
| Damaging Winds | Advisory | Now | 12/07/18 19h00 |
Strong and gusty north-westerly winds (45-60km/h) are expected to moderate by Thursday evening and including the Little Karoo in the afternoon.

Veld Fire Conditions

Warning

11/07/18 08h00

12/07/18 18h00
Extremely high fire danger conditions are expected over the eastern parts of the Central Karoo on Thursday.
Description: Strong damaging winds
Strong damaging winds often occur along coastal regions, but also often occur during thunderstorm activity. These winds are sudden and can cause much damage.

Precautions:  Strong damaging winds
Stay indoors where possible away from the windows that open towards the severe winds. Be aware of the following: - sudden cross winds if traveling especially between buildings, fallen trees or power lines and flying debris.
Small boats must stay away from the open sea and seek the shelter of a harbour, river estuary or protected bay.
Parked aircraft should be pointed into the direction of the wind and secured Listen to the radio or TV for warnings and obey the instructions from disaster management officers.
Description: Dangerous veld/bush fire conditions
Whenever there are prolonged periods of little and no rain coupled with warm dry winds, veldt or bush fires can easily be sparked and will spread rapidly in strong winds.
Precautions: Dangerous veld/bush fire conditions
Don't make fires in the open and/or leave fires unattended. Don't throw cigarette butts out of cars or in the open veldt. Don't throw bottles in the veldt as they can magnify the sun's rays and start fires. Prepare and maintain fire breaks in controlled manner.
In the case of a large fire report it immediately and move away from the area to let the professionals deal with it. Never throw water onto a fire started by an electrical fault or fires started by oil or paraffin lamps. In this case sand or a blanket should be used to smother the fire. Listen to the radio or TV for warnings and obey the instructions from disaster management officers.