Female students at Rhodes University in Grahamstown have reportedly threatened to bring academic learning to a standstill at the institution if their demands that the university does more to protects them from sexual violence are not met. On Tuesday, female students embarked on a topless protest at the university's Drama Department to draw attention to the reality of sexual violence at the institution.
Speaking to the SABC, one of the protesting students, Esihle Matshaya said; "We decided  to go to the drama department and take our clothes off and stand there, and show men  that  they  have no right to our  bodies, that is when the police came and intimidated us and told us to stop what we are doing because its public indecency.
"They threatened to shoot us, we told them we will not leave, we stood there for hours fighting with the police, no one was shot and eventually they decided to leave."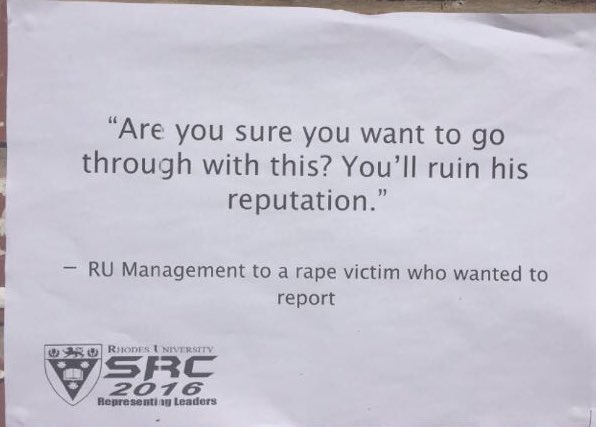 Matshaya said, "No one is going to lectures, no one is going to eat, we are just going to shut the university down, its going to come to a stand a still until they address our problem."
Their calls have since resonated with students at various other South African universities, who have come out in support of the protesters.
On Tuesday, Rhodes University released a statement saying it "condemns rape and sexual violence and seeks to provide a consistent, caring, and timely response when sexual assaults occur within the University community. We acknowledge that we are a microcosm of society in which sexual violence and rape are pervasive".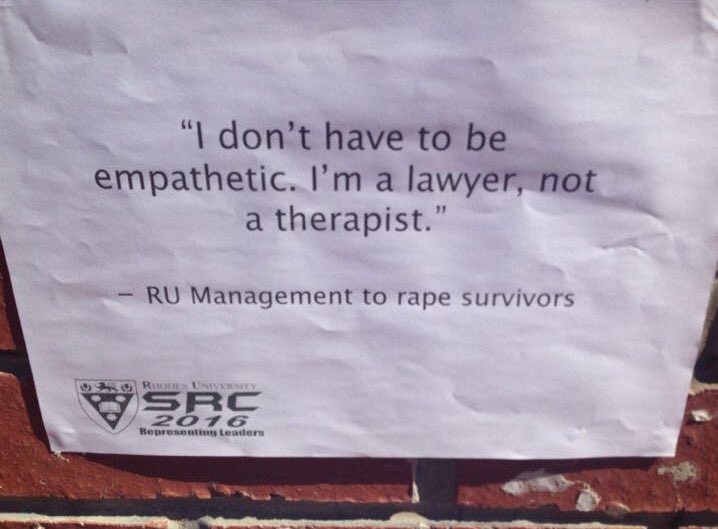 "Rhodes University does not tolerate this culture and strives to be at the forefront of change in ridding our institution and our society of this scourge.
"The current protests on campus may trigger rape survivors, and the Counselling Centre is available for students who may need support. Students and staff are encouraged to go to the Counselling Centre in the Steve Biko Building," the institution said.
It said that on Monday evening, a list of 11names of current and past students was released on RU Queer Confessions, Questions and Crushes with the hashtag #RUReferenceList.
"This post was shared to the Rhodes University SRC Facebook Page. Following this, a call was made to students to meet at the Steve Biko Building.
"The group of protesters gathered at the SRC Offices. They proceeded from there to various residences and entered Jan Smuts, Calata, Cullen Bowles, Goldfields, and Graham House in an attempt to find the students whose names appeared on the list. A few students were held by the group. The Vice-Chancellor and Director of Student Affairs tried to engage with the protesters at Cullen Bowles, Graham House and again at the Drama Department, however these attempts failed," Rodes University described.
"The Vice-Chancellor engaged with students last night and during the early hours of this morning instructing the protesting group to release the remaining student who was being held against the student's will, and indicated to the students that they were breaking the law."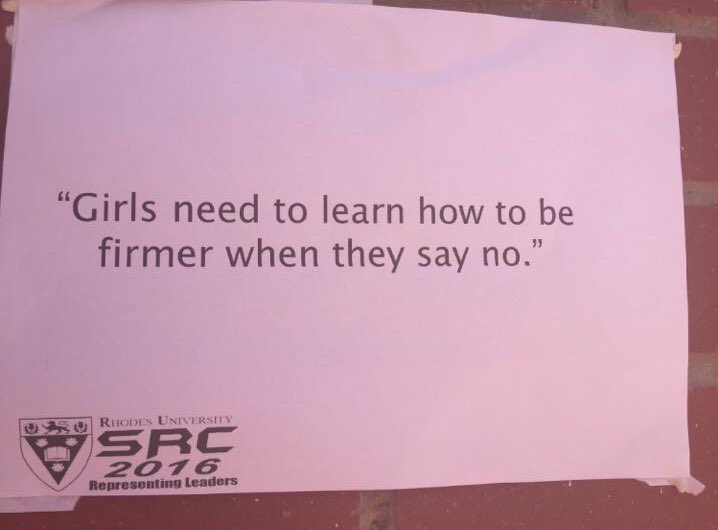 At 08:00 am this morning a student was still being held against their will and the SAPS assisted in resolving this situation.
"We acknowledge the need to provide stronger mechanisms to support rape survivors. A Task Team, consisting of staff and students and chaired by Prof Catriona Macleod, will be constituted to look broadly into issues of sexual violence on campus and how we may strengthen our systems and procedures," the institution said.
"The University affirms the need for more effective education about sexual violence including rape. We operate in a constitutional state and we need to observe the rights of all."
Below is the full list of demands by the protesting students:
"Gordon Barker and Sarah Driver immediately step down as the university proctors. This is because the manner in which they have dealt with victims in the past has been extremely callous and has resulted in a number of victims having secondary trauma.
A team must be appointed to deal with cases of abuse and assault. Currently, there is only one Harassment Officer to deal with all cases of abuse and assault and we find this highly problematic as when she is not in students have no one else to report to.
Changes must be made to the current sexual policy. These include a change of the definition of rape to include those who are forced to penetrate another as well as to change the policy which currently requires victims to prove that their perpetrators intended to rape them.
Mandatory sensitivity training for staff. This includes CPU
People charged with sexual assault may not be able to run for and occupy student leadership positions. Past sexual assault charges must be taken into consideration when selecting subwardens as the position is not just employment but a leadership position as well.
Buchule Madikizela must step down as the SRC Environmental Councillor
In the event of a shut down, the Health Care Centre and the Counselling Centre must stay open
Those charged with rape must be suspended from residence- Rape charges must be placed on students permanent academic records
No student who participates in any protest action will face disciplinary action or be otherwise penalised. This includes DP removals for missed tutorials, practicals, lectures, or submissions, tests, or being given fail marks for any of the above."